Mortgage Website Marketing
How To Get Unlimited Free Targeted Traffic To Your Website
I don't need to tell you about the power of the internet. You probably spend most of your day online.
But are you getting all the clients you can from the net?
Is your website pulling its own weight and making you money?
Or is it, like most mortgage sites, just an expense and a way to have prospects fill out forms online instead of in person?
What would your business be like, if your website was at the top of the search engines? The organic rankings - not the ads.
Do you know how many people are searching for mortgages on Google? Hundreds of thousands!
I just did a quick search on google for my market: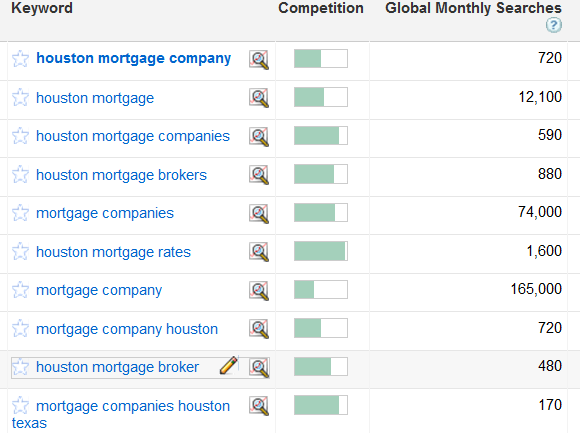 If I add up all the search terms with the word "houston" in it, I get 15,660 search a month!
And this is just few of the search terms on google. People use a lot more than just these and other search engines.
You can run the same search for your city at www.google/sktool to see how many people are searching for a mortgage company in your town/city/state.
How To Get To The Top Of Google
Search engine optimization (SEO) is the process used to move your site up the rankings.
There are two parts to SEO.
1. On page optimization
2. Off page optimization
On page optimization is your website and how it is set up. Your titles, your keywords, your content, your meta tags, your sitemap, and everything else on your site.
On page stuff makes up about 20% of SEO. The other 80% is Off page.
And by Off page, I mean your site's popularity. The main way to make your site popular is to get other sites to link to your site. The more links you have, the more important the search engines think your site is. The more they like your site, the higher your rankings.
So SEO is pretty simple, fix the On page stuff, and have others link to you.
But I guess if it was that easy, you'd already be at #1 right?
This is where we come in. We have partnered with a wonderful seo company to deliver amazing results at very resonable prices.
Want to see some of their results?
Search on google for any of these words:
Mortgage Broker Training


Mortgage Training

Be a Loan Officer

Be a Mortgage Broker

Mortgage Marketing

Mortgage Broker

plus several others
Notice any site that keeps popping up on the first page? Yup, this one.
I can't give you a better testmonial than that. And they have done the same for 3 other websites of ours.
If you want your site to start bringing you free traffic, then I urge you to call these guys. They are completely white hat, honest, and great to deal with.
They offer local packages that can fit anyone's budget.
But you must call quickly because they will only work with one mortgage website per city.
To see if your city is still available, call Ray at 281-786-0412
Mortgage Website Marketing